Our fully equipped gym will provide your child with a wide range of physical activities. Starting with toddlers, they will develop skills such as walking, running, climbing, and jumping.  Once a toddler has developed a sense of balance,  they will begin working on throwing, catching and kicking. Children ages 3 and above will be exposed to all areas of physical development to the respective age.  Physical fitness is very important to us at The Academy and this developmental need is met as part of our structured curriculum.
Each class will begin with a 5 to 10 minute warm-up, which includes stretching and cardio. As a large group,  the children work on basic tumbling skills, obstacle course work and group games that enhance the child's team building development.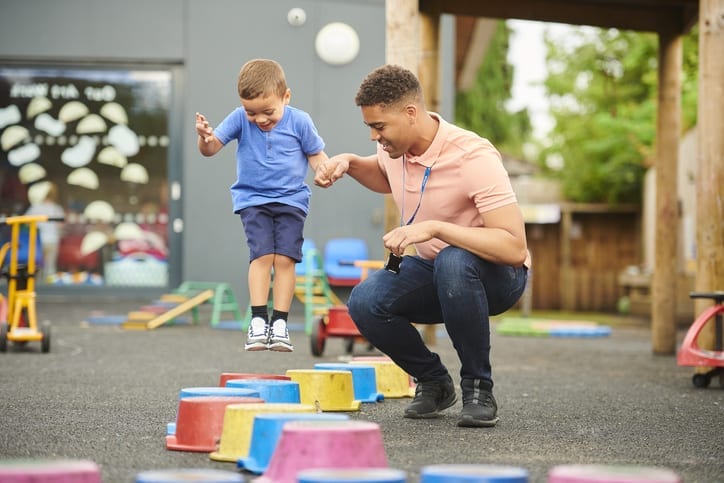 During inclement weather, hot and/or cold weather, children use the gym space for their recreational play. Our fully equipped gym features kid-friendly play equipment including mats, balance beams, swinging ropes, large inflatable balls, standard size play balls, cushioned ramps and blocks.
We also use the gym for our programs and productions that we do every year, like our Holiday Program where the kids sing and entertain, Parent's Day Out programs, and other programs where a large gathering place is needed.
The Academy Early Childhood Education Center strongly encourages you to visit one of our beautiful educational facilities to really see what your child will experience on a daily basis.
Experiencing The Academy "hands on" is the best way you will feel comfortable in making the most important decision of your life for you and your child.
Please stop in at your convenience - there is no appointment necessary to tour our facilities.
The Academy Early Childhood Education Center offers three daily enrichments that your child will  participate in during the course of the week
Enrichments, a crucial part of our curriculum, are included in your program, there is no extra charge for enrichment programs.