At The Academy, our Preschool program offers the developmental life skills necessary for your child to become a successful learner. Your child will be exposed to a social setting with an exploratory focus in areas such as language, math, science, sensory, dramatic play, blocks and manipulative play and art exploration. Group times are very important at this age because your child is becoming an independent person and we want your child to feel very comfortable with who they are.
Preschool is a fun and exciting time in a child's life. Your child will absolutely love coming to school daily at The Academy. We offer two preschool classrooms serving potty-trained children ages 3 years to 4 years old. Our teachers are very dedicated and experienced in the developmental stages of these important years. They realize that each child needs to develop at their own pace and therefore offer many activities in language, math, and science, fine motor and gross motor skills. The activities are set up in learning centers which offers opportunities for your child to develop self confidence, decision making, patience and independence skills. Learning through play is one of the most important ways your child will learn and is an essential element of our curriculum.
Each class offers social circle time where students co-mingle and interact with the teacher and the daily lesson. This provides each student the opportunity to listen and speak and engage their classmates and teachers, building the cognitive and social skills while learning.
Preschoolers also engage in learning at themed stations known as "shelf jobs" and "table centers". Each classroom has designated areas where students gather in small groups to play with themed toys and learning tools. Each area focuses on mathematics and science, reading and language, dramatic play, practical life skills, and manipulative play.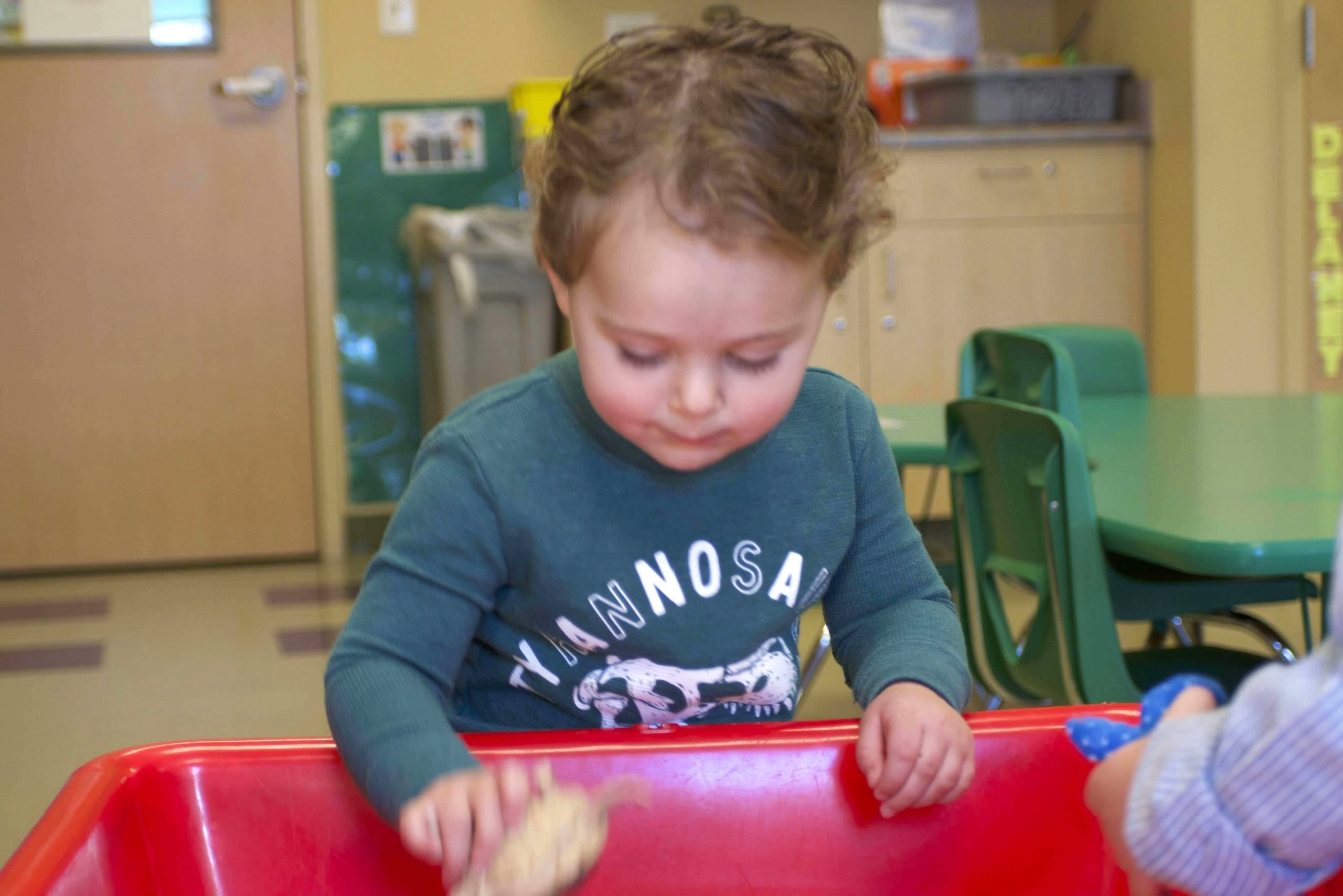 Math and Science area has games and tools that encourage counting, number recognition, and recognition of basic scientific principles, including collecting and examining "bugs", scales to determine heavy and light, determining hot and cold, etc...
Reading and Language area has familiar and contemporary books and other letter tools that encourage letter recognition, phonetics and beginning reading skills.
Dramatic Play area encourages creative expression through pretending and role playing with costumes, puppets and puppet shows, and 'grown-up' toys and tools like brooms, dustpans, workbenches, etc...
Practical Life Skills area encourages teaches life skills like holding pencils and crayons correctly, how to hold silverware, washing hands, potty training, and cleaning up after yourself.
Manipulative Play area encourages development of gross motor skills through activities like sorting and building.
Physical movement and outside play is also important to a child's development and is an integral part of our curriculum.  Children play outside every day, weather permitting, in their own age-appropriate playground area. When weather is below 40 degrees or over 90 degrees, children play indoors.
As part of the Preschool curriculum your child will participate in Enrichments that enhance different areas of their learning. The three daily Enrichments include:
physical fitness in our fully equipped gym - building gross motor skills and teamwork
computer lab and children's library -  offering individual instruction in language, reading, comprehension and fine motor skills with computers, hands-on activities and games, and books
creative movement room - allowing your child to express their creative side through dance, music, drama and art
By allowing preschoolers to experience these important developmental learning stages - they will become more comfortable with their own independence and begin learning tolerance, patience, rules, self confidence, decision making, and independence skills.
The Academy Early Childhood Education Center strongly encourages you to visit one of our beautiful educational facilities to really see what your child will experience on a daily basis.
Experiencing The Academy "hands on" is the best way you will feel comfortable in making the most important decision of your life for you and your child.
Please stop in at your convenience - there is no appointment necessary to tour our facilities.